Hey, kids. Big A.S.S. news this week. In fact, it was so big that we released the episode to non-subscribers five days earlier than usual and sent out a press release, which goes as follows:
Sanjaya Malakar, Iconic American Idol Finalist, Comes Out as Bisexual 
Former Teen Idol Tells Discusses His Sexuality and Simon Cowell's Criticisms with Podcast Host Adam Sank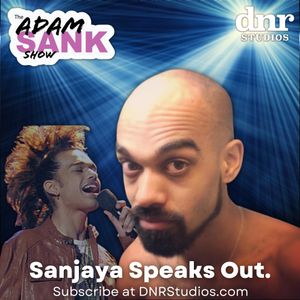 Aug. 22, 2022 (New York City) – In a new and exclusive interview on the Adam Sank Show Podcast, one of American Idol's most iconic former contestants, Sanjaya Malakar from Season Six of the long-running reality singing competition, comes out as bisexual. Sanjaya also speaks publicly for the first time about the treatment he received from former Idol judge Simon Cowell and from Internet bullies... and well as what he's up to these days. 
Sanjaya, now 32 and a pastry chef living in Montana, was only 16 when he first auditioned for the TV talent show in 2006, alongside his older sister, Shyamali. Although Cowell and the other judges – Randy Jackson and Paula Abdul – initially deemed the shy teen to be sufficiently talented to put him through to the top 40 round, Cowell soon soured on Sanjaya and began berating his singing week after week, at one point describing it as "utterly horrendous." At the same time, Internet bullies across the country were incessantly blasting Sanjaya, even sardonically encouraging people to vote for him on a Vote for the Worst website. 
"I definitely had quite a bit of verbal abuse from stepdads growing up," Sanjaya tells Sank during the 40-minute interview. "So I was really good at letting it kind of wash off my back. Obviously, it affected me. But more than what Simon said, what was perpetuated online by haters… like, the people that loved me were so balanced by people that were literally starving themselves until I got cut from the show. So that effect that I had as a child on that many people had way more of an effect on me than the things that Simon was saying." 
Sanjaya speaks candidly with Sank about his struggles with overnight fame/infamy, even addressing the infamous "ponyhawk" hairstyle he sported in the Top 10 round, which launched a thousand late-night jokes. 
"I would literally go to Dean, the hairstylist, I would go to his studio the day or two before, and he'd have like four of five mannequin heads with wigs on them with hairstyles and be like, "What do you think?", Sanjaya tells Sank. The week that the stylist came up with the ponyhawk look, Sanjaya says, "My mom went in and was like, 'This is ridiculous. My son is not a joke. I'm not going to have him walking around like a fool.'" But according to Sanjaya, executive producer Nigel Lythgoe ultimately convinced Sanjaya and his mother to go ahead with the hairstyle, saying it would be a "media phenomenon." 
Toward the end of the interview, Sank asks Sanjaya if he'd like to go on the record about his sexual identity, a source of great speculation when his season was airing. "I identify as bisexual," Sanjaya tells him. "At the time, I did not know, which was why it was so weird for me… I was raised by women, I was in theater, I had a hard time figuring out how to interact with young boys… Everyone [kept] telling me that I'm gay, and I'm like seven. I'm like, I don't even have any attraction to anyone, so why are you telling me this?" 
At the time that his Idol season aired, Sanjaya says he was in the midst of a long-term relationship with a young woman. "I was exploring my life as a child, and then American Idol happens, and everyone's like 'He's gay.' And I'm like, 'Well, now I have to say "No.' Because at this point, they're forcing me to make a decision, and to define myself… I grew up in a time when being called 'f-ggot' in school was the worst thing that could ever happen to you." 
Sanjaya went on to tell Sank that even now, he hasn't discussed his sexual orientation with his parents. "At this point, I don't care what people know of my sexuality," Sanjaya says. "If I got into a serious, long-term relationship with a guy, I would bring him to my family, and they would be like, 'Oh, cool.'" 
People can hear Sanjaya's full interview with the Adam Sank Show here. 
Powered by DNRStudios and nominated three times for a People's Choice Podcast Award, the Adam Sank Show is a hilarious weekly podcast in which comedian Adam Sank, co-host Steve Chazaro and producer J.B. Bercy talk LGBTQ news, pop culture, politics, sex and whole lot more. With celebrity guests like Wilson Cruz, Bianca Del Rio, Rocco Steele, Dolf Dietrich, Scott Lowell, Suzanne Westenhoefer, Peter Paige, Charles Busch, Peppermint, Honey Davenport, John Fugelsang, Davey Wavey and Lypsinka. To hear episodes live and throughout the week they first air, subscribe to the show here. For more information, visit www.adamsank.com.