Happy Labor Day, A.S.S. Fans!
As most of you are off from work today, it's the perfect time to get caught up on some podcast listening! DNRStudios subscribers can listen to our latest episode, featuring renowned comedian Emma Willmann.

Emma joined us in studio – it's always a treat when we can have someone live and in person – and the first thing she did was whip her shirt off and use it as a towel to wipe up some spilled coffee. (Lest you get too excited, she had a tank top on underneath.) Anyway, she was HILARIOUS. And so easy to talk to, opening up to us about growing up in rural Maine, her first lesbian experience, how she first got into stand-up and why she's no longer into Demi Lovato. Honestly, the half-hour flew by so quickly that I was shocked when I looked at the clock and realized it was time to go to "A.S.S. Me No Questions." Emma's episode goes wide on Saturday, Sept. 10, and when it does, you can listen to it HERE.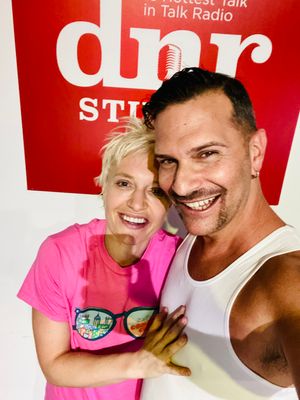 Touched by a Lesbian
If you can't wait until next Saturday, available free now is last Saturday's episode with social media superstar On Mekahel, founder of Mounderwear, and his equally hot husband, Dave. These guys were extremely candid with us, which was quite refreshing, given Dave's prison record. He shared with us how it was that he went from an upper-middle class upbringing to the world of drug trafficking... and how he survived a year in state prison. I also asked On, who met Dave only three weeks after the prison sentence ended, whether he was wary of beginning a relationship with someone who has a criminal record. Really, really interesting stuff. You can listen to the whole episode HERE.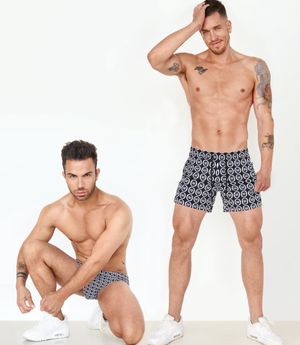 I wouldn't mind having either of them as a cell-mate.
Next Saturday, we'll be live in studio with one of our favorite guests, hot straight guy-comedian Kevin Israel. (He's the voice that says "Give a warm round of applause to my friend and yours, Adam Sank!" in our current show opening.) I can't wait to gaze upon him once more!
Until then, thanks as always for listening.
Xoxo Adam