After four sold-out shows at the historic Stonewall Inn this summer, Adam Sank is returning to Stonewall for two additional performances of his acclaimed one-man show, "Bad Dates: A One Man Show About Many Men," on Oct. 7th and 14th at 6:30PM. The show will be moving to Wilton Manors, FL in November for a limited engagement at the Foundry, where it will be produced and directed by Ronnie Larsen, and other cities may follow.
Lavender after Dark says: "Sank's 'Bad Dates' is sexy, smart, and funny. But it also has its very provocative moments… Not just hilarious but also more relevant than ever..."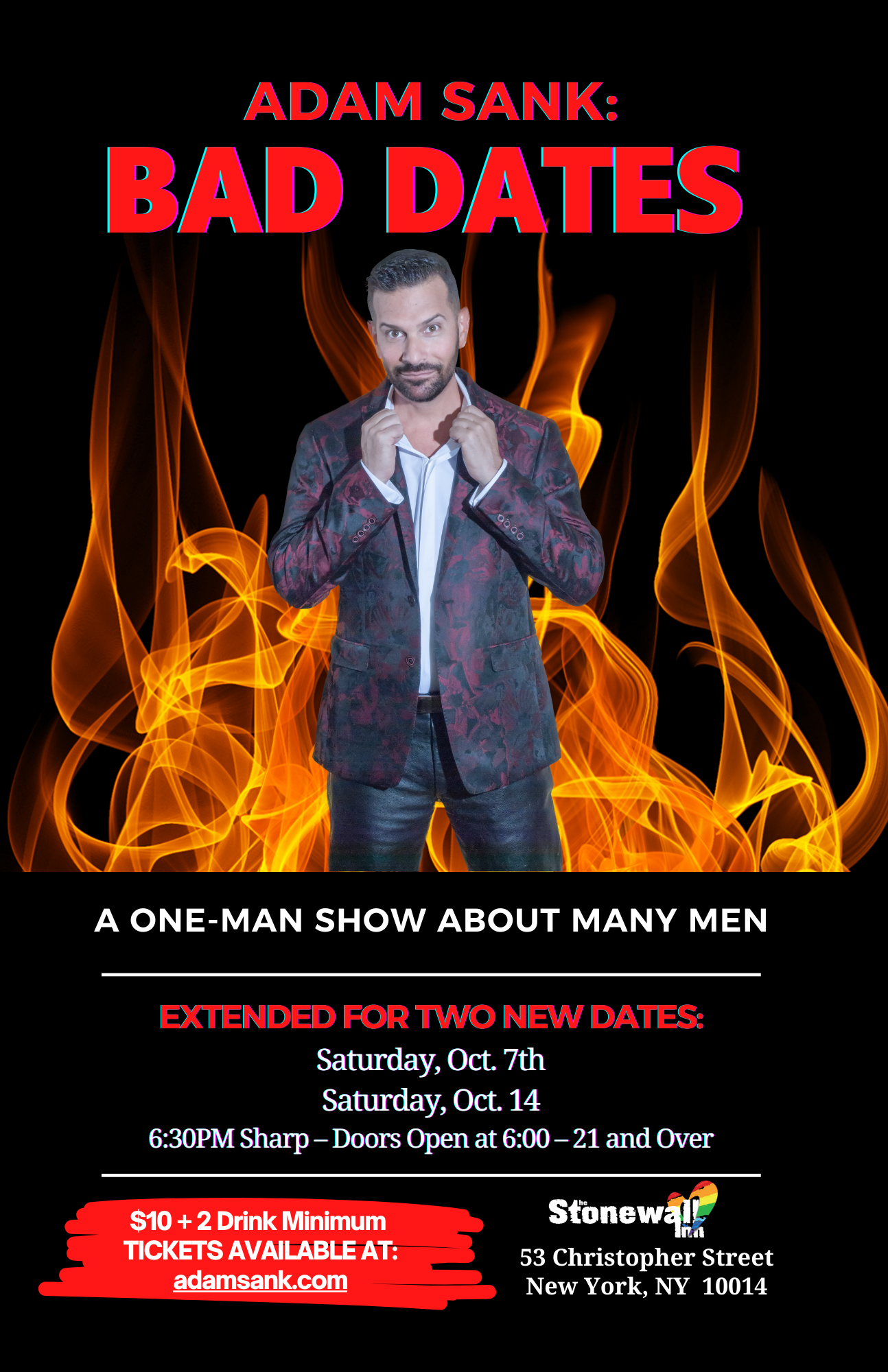 Veteran comedian Adam Sank ("Last Comic Standing," "The Today Show," Vh-1's "I Love the 2000s") came out of retirement with this new show about one gay man's fruitless 30-year-search for lasting love. From the future politician who kept stealing his Neosporin to the vanilla guy with the Christmas-tree-shaped member, Adam's dating stories are ribald and hilarious... until he turns the tables with one that is shocking and tragic.
"In that past, all my shows have been a random series of jokes, and one of the reasons I retired was because that was no longer satisfying," Sank says. "In returning to the stage, I wanted to try something different. 'Bad Dates' is about a single idea, which is the fact that I've spent half my life hunting for men, and what the cost of that is. And while I hope people laugh at most of the show, I'm also hoping they take away something genuine and heartfelt."
Ages 21 and over only. Graphic language and sensitive content. Audience discretion is advised. $10 + 2-drink minimum. For tickets and information, visit https://adamsank.com/.