Wow, what a week! When Sanjaya Malakar agreed to be a guest on the A.S.S., I knew there'd be some interest from the media. For several months, back in 2006, Sanjaya was one of the most famous people in the world. EVERYBODY was talking about him – from late-night hosts to radio DJs (most notably Howard Stern) to standup comedians, including yours truly. I also knew that his coming out publicly as bisexual for the first time, which he and I had discussed during a pre-interview, would make some of the gay blogs.
What I was NOT prepared for is that this episode would make headlines across the world.

There's no way I could list all the publications, websites, blogs, TV shows and radio stations that ran the story, but here are some the bigger outlets that did so: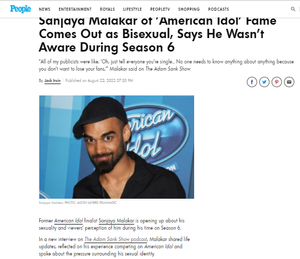 People... People Who Need People...
I was obviously THRILLED by all the great coverage from these media titans. But actually, my favorite article about us was on Heavy.com. I feel like the author, whoever she/he/they are, really got the importance of the interview, which was not just Sanjaya's sexuality but the bullying he received on American Idol from the loathsome Simon Cowell. 

I am also endlessly tickled by the fact that the first 30 minutes of the episode, which thousands of new listeners will hear, was one of the filthier discussions we've ever had on the podcast. Now everyone will know that J.B.'s "thick cakes" require at least nine inches of dick. LMAO!
So after our biggest episode ever, what do we do for a follow-up? Enter On Mekahel and his husband, Dave.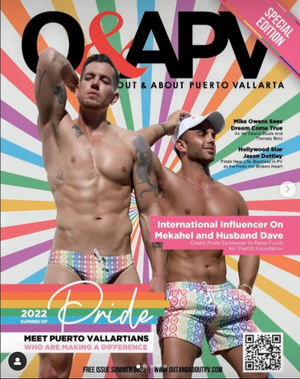 Um... Woof

Yeah, yeah, I know – a couple of hot thirstraps with a huge social media following. Who cares? Well, trust me when I tell you that they BOTH have fascinating stories to tell. And they're truly great guys. I can't wait to speak with them tomorrow (Saturday, 8/27). DNR Studios subscribers can listen live at 11AM ET. 
 
Finally, I feel like our episode featuring Daddy Cream aka Jovon Joseph got overshadowed by all the Sanjaya hoopla. Jovon was a TERRIFIC guest, and his episode is now available for free to all. Listen to it HERE.
Thanks as always for listening.
xoxo Adam