RECOMMENDED VIEWING (Or is it?): "The Curious Case of Natalia Grace" (2023) on Investigation Discovery. Also streaming on Max (formerly HBO Max).
As anyone who regularly listened to my podcast knows, I have long been obsessed with this bizarre and disturbing case. In fact, we talked about it so often that I created a special audio bumper for it, replete with horror movie music and children's laughter. ("Is she a sweet, young, lovable orphan? Or is she an EVIL DWARF IN DISGUISE?! Here's your Natalia Update!")
The basic facts, for those not in the know, are these: In 2010, Indiana couple Michael and Kristine Barnett adopted Natalia, a disabled little person whom they believed to be a six-year-old Ukrainian orphan. 
Almost immediately, they became convinced that Natalia was not only much older than six but also a crazed sociopath intent on harming them and their three other children. (And yes, that's basically the exact plot of the 2009 horror movie "Orphan.")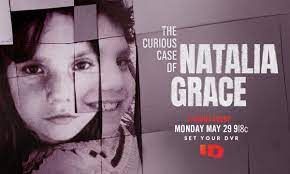 Through a dubious legal proceeding, they had her "re-aged" to 22 in 2012, and shortly thereafter, they left her to fend for herself, alone in a shabby apartment that provided no accommodations for her disabilities, while they moved to Canada. Depending on whom you believe, Natalia was either 9 or 23 at the time. Either way, she was unable to care for herself.
The Barnetts, who eventually divorced, were both charged with abandonment in separate trials, and this six-part docuseries spends much of its time focusing on the trial of Michael, who also granted numerous and lengthy interviews with the producers.
And therein lies the problem with "Curious Case"; guilty or not, Michael Barnett is one of the creepiest people you'll ever encounter. Deeply histrionic, melodramatic, prone to fits of crying, screaming and pounding the floor, he's not just an unreliable narrator – he's a detestable one. And while his kooky antics make for compelling viewing in a car-crash kind of way, they don't shed a whole lot of light on the truth of the case. 
More as a warning than a spoiler, I'll tell you that most of the big questions remain unanswered by the end of Ep. 6. But if you're a true Nataliaphile like me, you shouldn't skip it.