Hey, Fam!
As I mentioned in the last post, tomorrow (Aug. 13) at 11AM ET, DNRStudios subscribers will get to hear our live interview with adult video star Daddy Cream, also known as Jovon Joseph. Jovon/Daddy is about to drop his second memoir, entitled "Life After Marriage."
He sent me an advance copy, and honey, it is JUICY. One of the things I admire so much about this guy, aside from his beautiful penis, is that he is an open book. From living with HIV to his troubled relationship with his daughter's mom to his quickie marriage and ultimate divorce, Jovon isn't afraid to put it all out there, without shame or fear. In other words, he's the PERFECT podcast guest. I can't wait! (Also, J.B. is quite excited for this episode. And by excited, I mean erect.)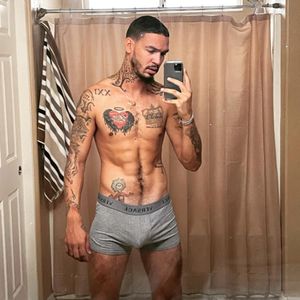 I'm Going to Ask Him About That Cute Dr. Seuss Tattoo on his Tummy
In other show news, our episode featuring Tye Blue, director of "Titanique," is now available free for all HERE. One listener who seemed to enjoy it quite a bit is Kevin, who left the following review:
Tye Him Up 
Bravo Adam! 
I have been a fan of you and the show for a long time, but never felt that I had to tell you what a great job you're doing. That's until I heard your interview with Tye Blue, you always have great energy with your guests, but it was especially sultry during your time with Tye. Please tell me you were able to get some alone time with Ty. 
Thanks for the great podcast! 👏👏👏 
_______________________
So did I wind up getting a date with Tye? You'll have to listen and find out!
Finally, I'm super-duper-extra excited about next week's interview with Sanjaya from American Idol. It occurred to me the other day that he will be the first guest we've ever had who's instantly recognized by his first name alone – like Cher or Madonna. Literally everybody over the age of 25 knows who Sanjaya is! And now he's gonna tell ALL, exclusively on the A.S.S. Get ready.
As always, thanks for listening.
xoxo Adam