Hey, kids. Last plug for my naked show in South Florida this coming weekend. At last check, there were exactly 20 tickets remaining across all four performances. Get your tickets while you can HERE. By the way, South Florida Gay News ran a really nice piece about Patrick and me in advance of the shows. Read it HERE.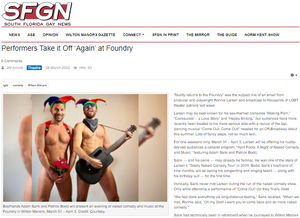 C'mon, gay press!
Now to the A.S.S.: Since I'll be in Florida this Saturday, we won't be live. But we've recorded a brand new episode subscribers can hear beginning April 2, featuring NYC drag superstar Pixie Aventura – the drag "granddaughter" of Bianca del Rio. I've been a fan of Pixie's for years but had never met her in person until now. But it turns out my trusty co-ho, Steve Chazaro, went to college with Pixie, so he got her to come into the studio.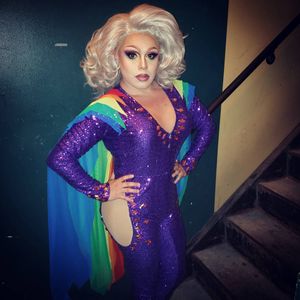 What are you looking at?
From the first moment we kicked off the interview, when Pixie sharply corrected my pronunciation of her boy name, Cesar, I knew Pixie was going to keep me on my toes. (For the record, he pronounces it like the salad – not the Spanish way.) Pixie is a fierce, funny and talented queen. But she's definitely no shrinking violet, nor is she a people-pleaser. So what I felt in interviewing her was a kind of tension I'm not accustomed to when I'm sitting in the hosting chair. It was exciting and a little scary. I haven't listened back to the episode yet, but I feel like listeners will understand the dynamic I'm talking about when they hear it.
Meanwhile, the Adam Feldman episode that premiered for subscribers last Saturday goes wide to all listeners on April 2 HERE. In addition to his astute assessment of truly terrible musicals of the 21st century, this episode features a lengthy discussion among Steve, J.B., studio visitor JJ, straight-boy intern Andrew and me about whether tops or bottoms have it easier. It may very well be the raunchiest, most graphic conversation the show has ever seen. I was LOLing listening back to it.
In other A.S.S. news, I feel like I've been talking about the David Hernandez interview for weeks. Well, the free version is finally available, so if you haven't already listened to it, you can do so HERE. I seriously love that man.
Thanks for all the great reviews you guys have been submitting over the past few weeks. It means the world to me. You can post yours HERE. And remember: If you want to listen to episodes live and throughout the week they first here, subscribe to DNR Studios HERE.
xoxo Adam