I'm alive! This despite a nasty super-flu that knocked me on my ass for the better part of last week. It wasn't Monkeypox or COVID... but it was bad. Suffice it to say, I fell behind on my ASS-blogging, but I'm back and happy to tell you what's been happening on the pod lately.

First, the Dallas Steele episode has generated a lot of buzz, as I expected it would. It's available for free now, so give it a listen HERE. (As George Michael would say, "Listen without prejudice.")
Speaking of George Michael, we recently had as our guest celebrity biographer James Gavin. James has written a fascinating and exhaustingly researched new book about the late, great British pop star entitled George Michael: A Life. Reading it brought me immediately back to middle school and reminded me just how many massive hits George had, both with Wham! and in his solo career. I can honestly say that the video of "Wake Me Up Before You Go-Go" (1984) awakened something sexual in my 13-year-old self. And by the time the "Faith" video hit the airwaves in 1987... featuring a bearded, sunglassed George in a black leather jacket, shaking his perfectly round rump... well, I was fully on my way to Homotown.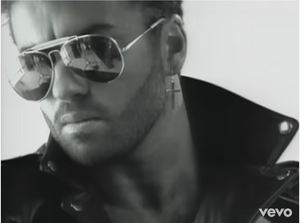 God, he was beautiful.
Sadly, as James tells it, the joy that George brought to me and millions of others was not something he often felt himself. Plagued with self-doubt, the pressures of living in the closet, significant personal loss and, ultimately addiction culminated in his untimely death at the age of 53 in 2016. You can listen free to my interview with James (and the rest of the episode) HERE.
On a much lighter note, this past Saturday we had in studio Tye Blue, the director and co-creator of NYC's current musical-comedy smash, Titanique. The show imagines what would have happened had Celine Dion been a passenger aboard the fated ocean liner... and lived to sing about it. It's truly one of the funniest things I've ever seen, and I spoke with Tye about how it all came together... and what Celine herself thinks of it.

I also asked Tye out on the air. You'll have to listen to see how that went. DNRStudios subscribers can hear the episode all this week; the rest of you will have to wait until this coming Saturday, 8/6, when it'll be available HERE.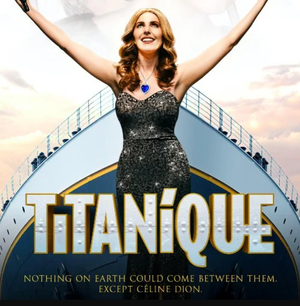 She's Queen of the World!
Finally, some odds and ends:
 
Steve Chazaro finally returns to the pod as co-host Aug. 6. Woo hoo!
Nominations for the Podcast Awards are now closed! We'll know Aug. 7 whether we were nominated. Stay tuned, and fingers crossed!
We have some iconic guests coming up... prepare to have your minds blown.
We've seen a tremendous growth in listenership over the past several months. I couldn't be more thrilled, but... and it's a big butt... we can't take advantage of the growth unless every one of you leaves a review on Apple Podcasts. Please take a few minutes and do so today. I'll be forever in your debt! 
 
Make sure all you sexually active gay and bi men get your vaccine for Monkeypox, aka Schlong Covid, ASAP. Thanks, and love to you all!

xoxo Adam