Hey, Kids.
I'll start off by sharing the same news I posted on my social media this past Sunday:
Not every great love affair lasts forever. 
I'm sorry to announce that Patrick and I have ended our romantic relationship and are transitioning into what we both hope is a lasting friendship. 
We actually made this decision over a week ago, but we chose to keep it to ourselves out of respect to all those who had bought tickets to our naked comedy/music show — a show that was very much about two boyfriends in love. 
It was surreal, to say the least, having to go through with the shows immediately after breaking up. But it was also, in many ways, a gift to both of us. We started the week in a lot of pain and ended it in a place of peace, understanding and friendship. Such is the transformative power of the performing arts. 
There is tremendous mutual love and respect between us. We both did our best and tried our hardest to make it work. And we are both so grateful to have had the past nine months together. It's been an adventure, to say the least.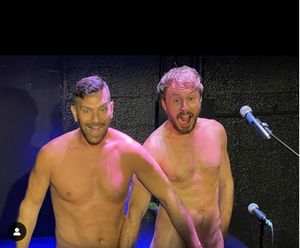 The naked truth.
I want to thank everybody who's reached out to check on me and offer support. I'm OK. Breakups suck, but they are an inevitable risk when you embark on a relationship. I have no regrets.

The shows themselves were great; we sold out the Foundry theater for five performances, and it was a thrill to be performing together for the first (and likely last time). A number of people have asked if this means I'm going back to standup; I'm not (save for an occasional corporate gig). It's just not fun for me anymore; I much prefer doing the podcast.

Speaking of which: the Adam Feldman/Broadway episode is now available for free HERE and on other audio platforms. The Pixie Aventura episode goes wide this coming Saturday, 4/9. Also this Saturday, DNR Studios subscribers will get to hear a special "Lost A.S.S." from way back in 2017. This one features the great Scott Lowell, who played Ted on Queer as Folk. It was Scott's first appearance on the show and only our tenth episode ever. Originally overmodulated, the episode has now been digitally remastered by yours truly, so the audio quality is much improved.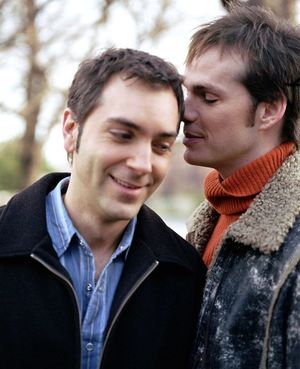 Better off Ted.
This episode also features my original co-host, A.D.D. Jeff, aka Jeff Dembinski. Steve, J.B. and I recorded the intro to it back in March, before my trip down to Florida. It was while I was down there that I learned that Jeff had passed away.

Jeff and I weren't close, but he was always very kind to me and was instrumental in helping me launch the podcast. And I know how much he meant to Derek & Romaine listeners, to the DNR show and most especially to Romaine Patterson, who posted a heartfelt (and heartbreaking) post about his death on her Facebook page. I'm shocked and saddened that he is no longer with us and truly pray that he is in a better place now. My heart goes out to all who knew and loved him. I'll be recording a special pre-intro before the episode airs to pay tribute.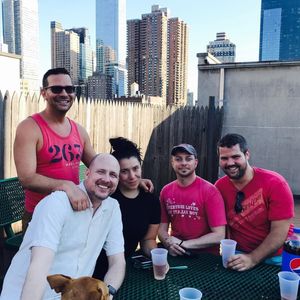 RIP.
That's all for this week. Thanks as always for listening, and for all the great reviews.
xoxo AJS