Happy Pride Month, gang!

I hope you all had a fabulous Memorial Day Weekend. The warm weather finally reached us here in the Big Apple, and I spent Sunday evening on the rooftop at the Eagle, my favorite local haunt, along with some good friends. It definitely put me in the mood for summer.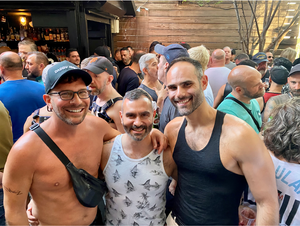 The fanny pack was a choice. But Paul and Tyler look cute.
We're going to be live in the studio this Saturday, and I want to warn you (and Gael) in advance that I'm going to have not one, not two, but THREE items for "Recommended Viewing." I'll give you one of them now: HBOMax's stirring new documentary, Spring Awakening: Those You've Known, featuring Jonathan Groff and Lea Michele.
I'm not sure how much it will mean to those who never saw the show – I saw both the original Broadway production in 2006 as well as the stunning 2015 revival by Deaf West Theatre. But seeing the original cast reunited 15 years after the premiere of the show that made (many of) them stars brought tears to my eyes. Groff is a simply  delicious man inside and out – not that I've tasted his insides – and part of the documentary focuses on his coming out journey. (He was closeted when the show first opened on Broadway.) As for Michele... yeah, I know she's got a problematic reputation. But Groff clearly adores her, and the two of them share a very close friendship. So you come away from the film feeling like, she can't be THAT terrible, right?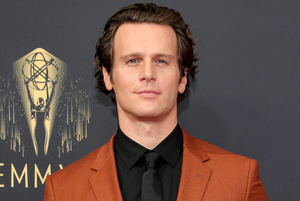 Why can't he be mine?

Speaking of Gael, she just celebrated her 70th birthday! And she was kind enough to send me a photo of herself wearing an official Adam Sank Show Fuckery Tee. So if you've ever wanted to put a face to that famous gravely voice – and I know I was always dying to see it – here she is, and happy 70th!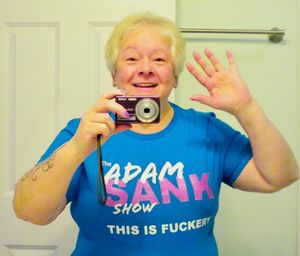 "I think your butt is telling you, 'No mas, por favor.'"
This Saturday our guest will be the amazing impressionist celebrity Rachel Butera. I've been a massive fan of Rachel's ever since she first appeared on the Howard Stern Show. It's one thing to be able to do great impressions of Joan Rivers, Rosie O'Donnell and other widely-imitated celebrities. But Rachel does dead-on impressions of Jane Fonda, Fran Lebowitz and a host of others most impressionists would never even attempt. Plus, she's got a fun, wacky personality herself. Subscribers can listen live HERE beginning at 11AM ET on Saturday, June 4.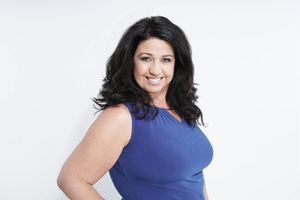 Plus, she lets me call her "Titsy."
Also beginning Saturday, the rest of you can listen to last week's episode with author Suzanne Simonetti... and every other past episode of the ASS... by clicking HERE.
Thanks for listening, kids.
xoxo Adam