Dearest Children:
Sometimes even Mama needs a vacation. That's why I'll be in Fire Island this Saturday – part of a weeklong getaway, actually – and not in studio recording another episode of the ASS for my thirsty listeners.
But... and it's a big butt... fear not! We have a brand new super-sized special coming your way entitled "The Best of ASS: Porn to Be Wild." Co-hosted by hilarious twinkster comedian Drew Lausch, the special features wild interviews with some of the porn superstars (and up-and-cummers) that we've had on the podcast, including:

Rocco Steele
and a beloved friend of the show (and mine), Dolf Dietrich.
Listening back to these interviews, I'm struck that every one of these men defies the common stereotype of the shallow, party-obsessed gay porn star. On the contrary, each is highly educated, articulate, funny and multidimensional. Which doesn't necessarily make your dick hard, but it does allow you to get to know these guys beyond just their body parts and simmering sexuality.

The special premieres this coming Saturday, May 14 exclusively for DNR Studios subscribers. (The rest of you free-loading whores can hear it beginning May 21.)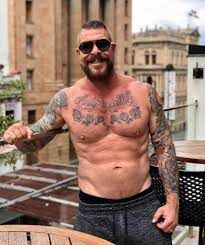 In Love with Rocco and His Cock-o
 
Speaking of freeloading whores, Logan Hardcore's episode becomes available to all this Saturday on Apple Podcasts and other audio platforms. As I mentioned in last week's blog post, this NYC drag legend gave a fascinating and brutally honest interview. You'll want to listen.
You'll also want to listen to my interview with sexy super-couple Jack Mackenroth and Dolf Dietrich, which is available now by clicking HERE.
Last thing: The ASS has received two new reviews over the past two weeks. I cannot thank you enough for posting these. Keep 'em coming. See you guys when I'm back from the Island.
xoxo Adam